The Anthem Series on Digital China seeks to understand how digital technologies are enabling the dissemination of Chinese cultural and creative content and expanding participation of user communities. The series also considers the changing nature of the workforce, financialization and security of data, intellectual property, internet sovereignty and strategies of governance. Books published in this series are cross-disciplinary and critical, including area studies, communication and media studies, information and computer sciences and social sciences.

Series Editor
Michael Keane – Queensland University of Technology, Australia
Haiqing Yu – RMIT University, Australia

Editorial Board
Greg Austin – University of New South Wales, Australia
Anthony Fung – Chinese University of Hong Kong, Hong Kong
Yu Hong – Zhejiang University, China
James Z. Lee – Hong Kong University of Science and Technology, Hong Kong
Yahong Li – University of Hong Kong, Hong Kong
Jack Linchuan Qiu – Chinese University of Hong Kong, Hong Kong
Silvia Lindtner – University of Michigan, USA
Yu-Li Liu – National Chengchi University, Taiwan
Florian Schneider – Leiden University, Netherlands
Jonathan Sullivan – University of Nottingham, UK
Wen Wen – Shenzhen University, China
Jian Xu – Deakin University, Australia
Guobin Yang – University of Pennsylvania, USA
Elaine Jing Zhao – University of New South Wales, Australia

Proposals
We welcome submissions of proposals for challenging and original works from emerging and established scholars that meet the criteria of our series. We make prompt editorial decisions. Our titles are published in print and e-book editions and are subject to peer review by recognized authorities in the field. We are accepting proposals for books of a variety of types and lengths including short books (Anthem Impact, 20,000 - 30,000 words), critical introductions (50,000 words), standard monographs (mid-length and full-length), edited collections, handbooks/companions, reference books, course and trade books. Please contact us at: proposal@anthempress.com.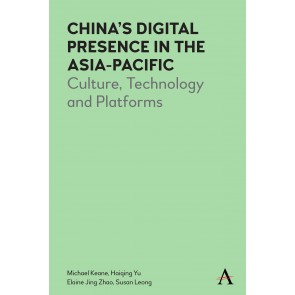 £80.00, $125.00 Hardback
December 2020