Anthem Studies in Emerging Media and Society invites scholarly enquiries into how transformations and continuities in the digitalised media landscape might (or might not) shape the way we live in, connect with and act for society at large. The series welcomes fresh empirical, interpretative and critical approaches to the diffusion and socio-political impact of emerging media forms, platforms, channels and devices. A major, but not exclusive, focus is on new developments that can influence democratic processes and their lifeblood, the quality of news and information.

Series Editor
An Nguyen – Bournemouth University, UK

Editorial Board
Stuart Allan – Cardiff University, UK
Axel Bruns – Queensland University of Technology, Australia
Kayt Davies – Curtin University, Australia
Andrew Duffy – Nanyang University of Technology, Singapore
Dan Jackson – Bournemouth University, UK
Nikki (Usher) Layser – George Washington University, USA
Angela Lee – University of Texas at Dallas, USA
Simon Lindgren – Umeå University, Sweden
Wiebke Loosen – University of Hamburg, Germany
Henrik Ornebring – Karlstad University, Sweden
Angela Phillips – Goldsmiths, University of London, UK
Julie Posetti – Oxford University, UK
Jane Singer – City University, London, UK
Einar Thorsen – Bournemouth University, UK
Tim Vos – Michigan State University, USA
Hong Vu – University of Kansas, USA
Amy Schmitz Weiss – San Diego State University, USA
Oscar Westlund – Oslo Metropolitan University, Norway

Proposals
We welcome submissions of proposals for challenging and original works from emerging and established scholars that meet the criteria of our series. We make prompt editorial decisions. Our titles are published in print and e-book editions and are subject to peer review by recognized authorities in the field. Should you wish to send in a proposal for a monograph (mid-length and full-length), edited collection, handbook or companion, reference or course book, please contact us at: proposal@anthempress.com.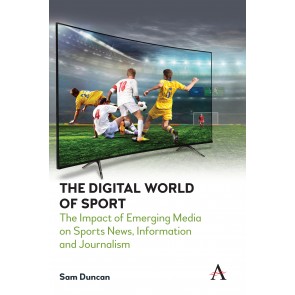 £80.00, $125.00 Hardback
September 2020