Anthem-ISEAS India-China Studies seeks to promote the field of Sino-Indian studies. This area of research includes ancient and contemporary interaction/dialogue between India and China, the comparative analysis of Indian and Chinese societies, and Indian and Chinese perceptions of and writings about each other. The series is a collaboration between Anthem Press and the Nalanda-Sriwijaya Centre at the Institute of Southeast Asian Studies, Singapore.

Series Editor
Tansen Sen – City University of New York, USA

Editorial Board
Jinhua Chen – University of British Columbia, Canada
Prasenjit Duara – National University of Singapore, Singapore
Toru Funayama – Kyoto University, Japan
Ashok Gurung – India China Institute, The New School, USA
Huang Jing – Lee Kuan Yew School of Public Policy, Singapore
Victor H. Mair – University of Pennsylvania, USA
Mohan Malik – Asia-Pacific Center for Security Studies, USA
C. Raja Mohan – Observer Research Foundation, India
C. V. Ranganathan – Former Indian Ambassador to China
N. C. Sen – Former Foreign Expert, Foreign Languages Bureau, China
Peter van der Veer – Max Planck Institute for the Study of Religious and Ethnic Diversity, Germany
Bangwei Wang – Centre for India Studies, Peking University, China
Anand Yang – University of Washington, USA

Proposals
We welcome submissions of proposals for challenging and original works from emerging and established scholars that meet the criteria of our series. We make prompt editorial decisions. Our titles are published in print and e-book editions and are subject to peer review by recognized authorities in the field. Should you wish to send in a proposal for a monograph (mid-length and full-length), edited collection or course book, please contact us at: proposal@anthempress.com.
£70.00, $115.00 Hardback
March 2015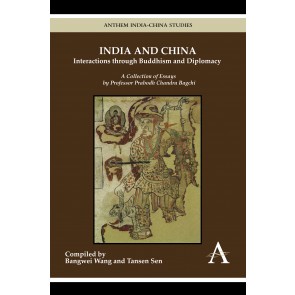 £70.00, $115.00 Hardback
October 2011