Anthem Studies in Supply Chain Management, Maritime Transport and Logisticsexplores the roles of maritime logistics, shipping and port connectivity, and supply chain system in promoting the globalised economy in tandem with free trade agreements, sustainability, AI and big data. The series touches upon policy, business implications, and contemporary and focal issues with empirical analysis. Titles in this series examine advanced theories, case studies, managerial implications and insights.

Series Editor
Paul Tae-Woo Lee - Zhejiang University, China

Editorial Board
Prem Chhetri - RMIT University, Australia
Kevin Cullinane - University of Gothenburg, Sweden
Kevin Li - Zhejiang University and Editor-in-Chief of Maritime Policy & Management, China
Qiang Meng - National University of Singapore, Singapore
Adolf K. Y. Ng - University of Manitoba, Canada
Theo Notteboom - Shanghai Maritime University, China
Kamonchanok Suthiwartnaureput - Chulalongkorn University, Thailand
Koichiro Tezuka - Nippon University, Japan
Grace Wang - Texas A&M University at Galveston, USA
Zaili Yang - Liverpool John Moores University, UK

Proposals
We welcome submissions of proposals for challenging and original works from emerging and established scholars and practitioners that meet the criteria of our series. We make prompt editorial decisions. Our titles are published in print and e-book editions and are subject to peer review by recognized authorities in the field. Should you wish to send in a proposal for a monograph (mid-length and full-length), edited collection, handbook or companion, reference or course book, please contact us at: proposal@anthempress.com.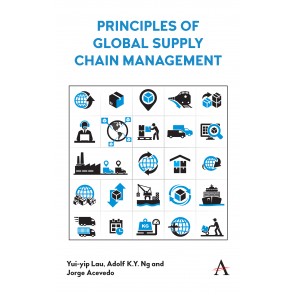 Join our mailing list
Anthem Studies in Supply Chain Management, Maritime Transport and Logistics
Sign Up